The Canada-Poland Partnership Evolving Transatlantic Ties at a Strategic Crossroads for the Euro-Atlantic Community
21 LUT 2023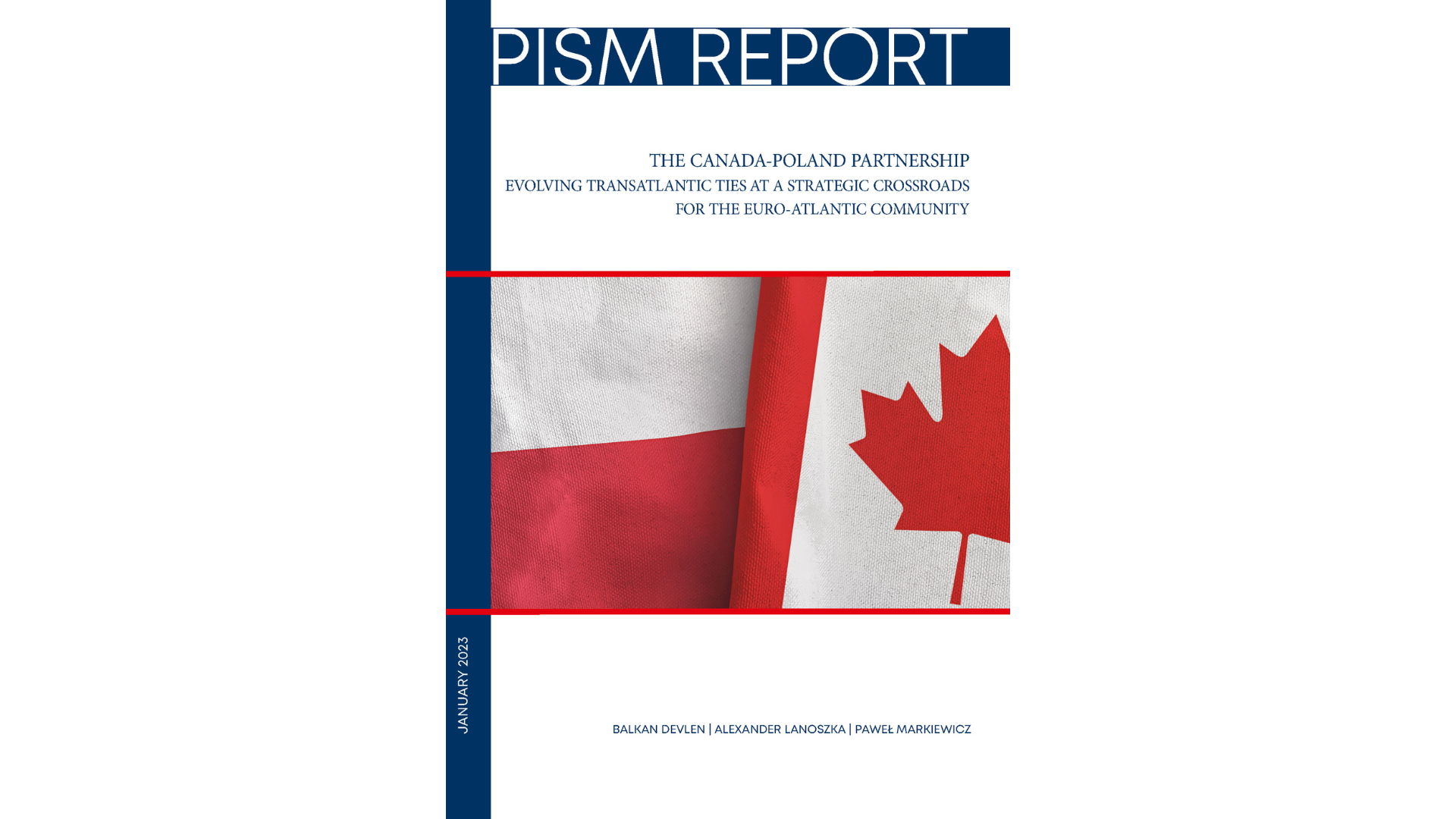 PISM
Canada and Poland celebrated the 80th anniversary of their bilateral relationship in 2022 at a time when major war returned to Europe and the rules-based international order experienced severe stress, not least due to the authoritarian challenge presented by Russia and China. Yet, because this historic milestone came amid Russia's unprovoked invasion of Ukraine, a unique opportunity exists for assessing and re-evaluating the state of relations between Canada and Poland, both in bilateral and multilateral formats, to look at when those relations formed, how they developed, and what opportunities for further collaboration are worth taking up.
The Canada-Poland relationship is by no means superficial. From the perspective of Canada, close ties with the largest country and economy in Central and Eastern Europe (CEE) provide it with a critical foothold in Europe's rapidly emergent and strategically important region. This foothold is all the more significant since the war in Ukraine created circumstances for a new power distribution where states like Poland will likely play important roles in shaping European security and political policies in the near future.1 Prime Minister Justin Trudeau's decision to expand Canada's role in the CEE in response to Russia's aggression in Ukraine will give Canada the chance to deepen bilateral and multilateral ties in a region anchored around Poland.2 As seen from Poland, amicable ties with Canada provide Poland with an additional anchor into one of the closest alliances in the world: the U.S.-Canada partnership. This alliance itself is crucial to maintaining a secure transatlantic neighbourhood upon which Poland relies and which it also contributes to defending. Perhaps the most important indication of how mature their bilateral ties have become is their ability to strengthen and to develop relations regardless of whether the ruling parties in Ottawa and Warsaw are of similar or different political orientations.
Canada's prosperity and security is closely tied to the transatlantic community while Poland's security and stability are anchored in it. Relations between Canada and Poland could therefore continue to grow in well-established sectors like military cooperation and trade and investment, as well as in newer areas like cybersecurity and energy diversification. The war in Ukraine, the need to rebuild it, possible escalation by Russia in the future, and any deep internal political changes that could risk destabilising Russia will only require greater cooperation and coordination between the two allies.
his report aims to contribute to Canada and Poland's growing and evolving transatlantic partnership. The first section provides a historical overview of the Canadian-Polish relationship in the 20th century. The second section brings the relationship to the 21st century and lays out the state of affairs in military and economic relations between Canada and Poland. The third section looks at the future of Canadian-Polish relations and suggest ways in which the relationship can move forward and evolve into a truly strategic partnership. Our recommendations relate to several policies that can enhance this important partnership over the next decade. These recommendations include launching the Canada-Poland Strategic Dialogue; developing a Canada-Poland Strategic Partnership Framework; Poland ratifying the Canada-European Union Comprehensive Economic and Trade Agreement (CETA); Canada publicly backing the Three Seas Initiative (3SI); actively cooperating in the energy sector, including natural gas, nuclear, and hydrogen; and deepening pan- -domain security and military cooperation. The conclusion wraps up this report by reiterating its central message, specifically, that the time is ripe for deepening and strengthening Canadian-Polish relations and doing so will serve not only the interests of both countries but also those of the broader Euro-Atlantic community.