Transatlantic Relations and the Main Regional Security Issues
26 KWI 2021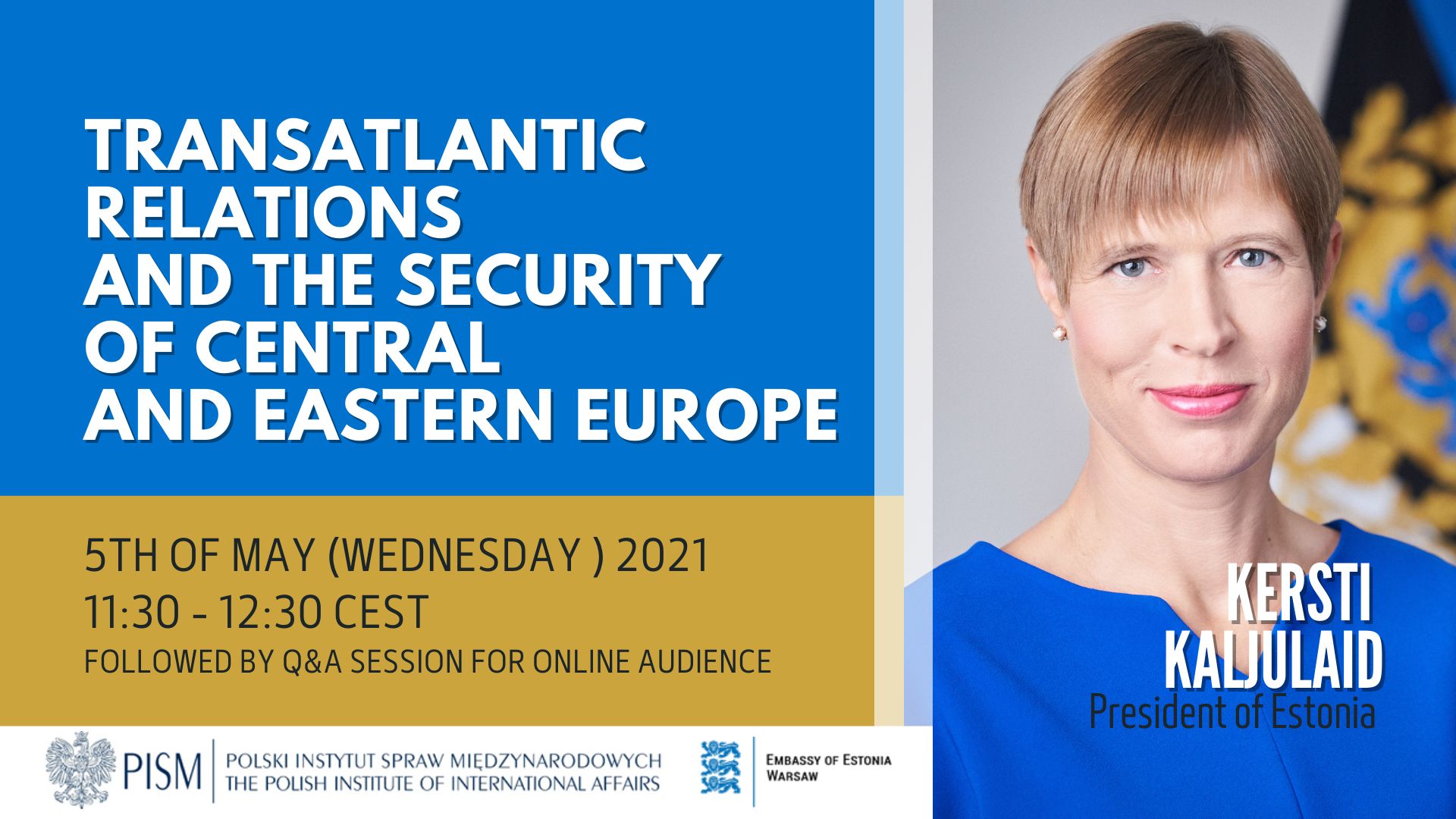 PISM
The Polish Institute of International Affairs (PISM)
and the Embassy of Estonia in Warsaw

are pleased to invite you to the online debate:
Transatlantic Relations and the Main Regional Security Issues


with
Kersti Kaljulaid
President of Estonia


moderated by
Sławomir Dębski
Director of the Polish Institute of International Affairs


Followed by Q&A session for online audience


The visit of President Kersti Kaljulaid to Warsaw comes at a turbulent time in international relations when transatlantic cooperation has become even more important. Russia continues to act aggressively in Eastern Europe by increasing pressure on Belarus and threatening Ukraine's sovereignty further. Moreover, Russia aims to permanently weaken the transatlantic ties and limit the EU's actions in its eastern neighbourhood.
The future of transatlantic relations and the main security issues in the region will be the starting point for this discussion. It will be an opportunity to learn about the Estonian perceptions of transatlantic cooperation and the future of NATO. Since both Poland and Estonia are interested in active and effective eastern policy, the discussion will seek to shed light on this aspect of cooperation.
Kersti Kaljulaid, president of the Republic of Estonia, is a supporter of a non-restrictive legal space for the ongoing digitalisation of economies and governments. She is an active promoter of sustainability and halting climate change. In 2016, Kaljulaid was elected president of the Republic of Estonia. Previously, she served from 2004 to 2016 as a member of the European Court of Auditors. President Kaljulaid led the Estonian campaign for a seat on the UN Security Council in 2020–2021 and until recently was a co-chair of the UN High-Level Steering Group "Every Woman Every Child". She is a member of the World Bank's Advisory Panel for the World Development Report 2021 and a member of the European Council on Foreign Relations.
5th of May (Wednesday ) 2021
11:30 - 12:30 CEST
Those wishing to participate are kindly invited to join the debate via our livestreamed YouTube channel:
https://www.youtube.com/user/PolandPISM